DCImanager — a platform for managing multivendor IT infrastructure
Try a solution to manage your entire physical IT infrastructure in a single interface.
Manage infrastructure of any size
DCImanager is a platform enabling to manage all equipment types:
Racks.
Servers.
Network equipment.
PDU and UPS.
Physical and virtual networks, etc.
It is suitable for local server and data centers of any size, including geographically distributed ones. DCImanager supports multivendor infrastructure. You can easily work with equipment by all popular vendors without additional tools, and therefore without maintenance and support costs.
DCImanager allows you to see the entire infrastructure hierarchy and maintain an inventory of IT assets: from switch racks with equipment to components installed in the servers and stored in the warehouse.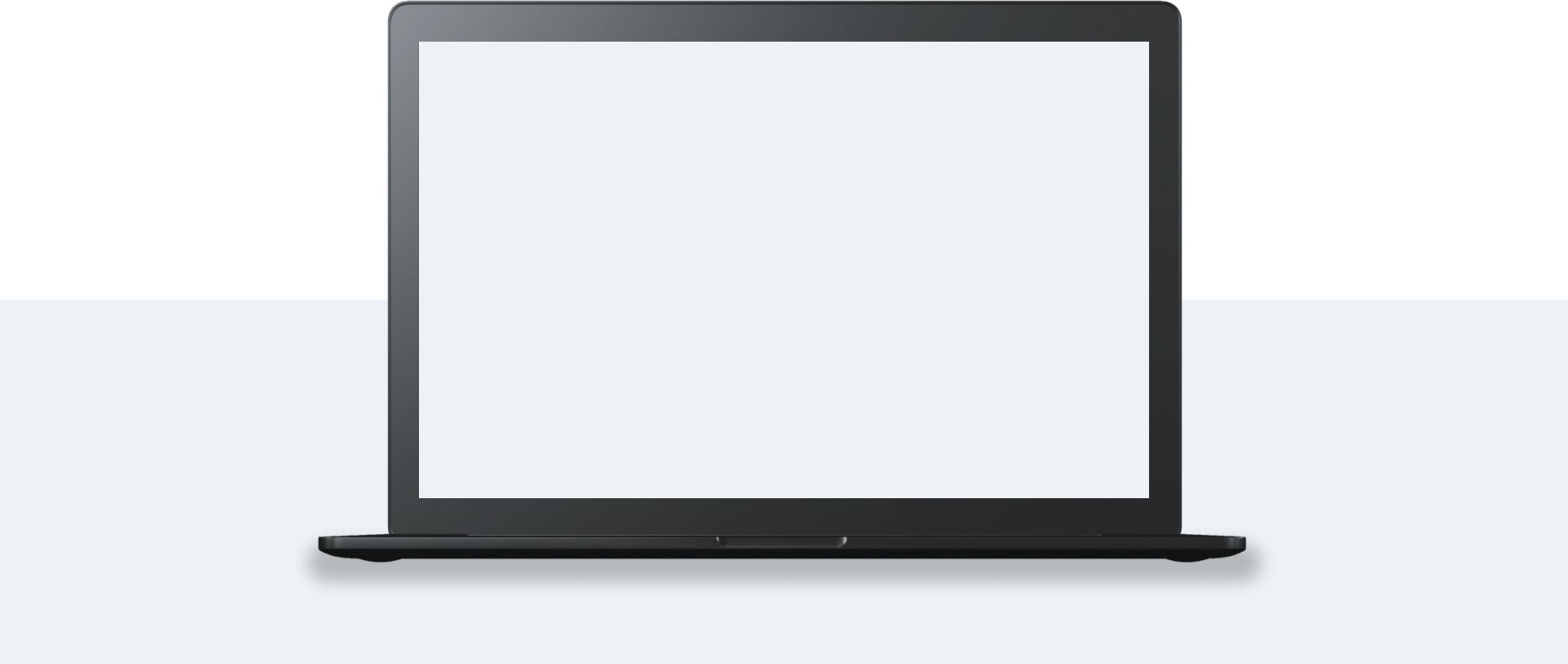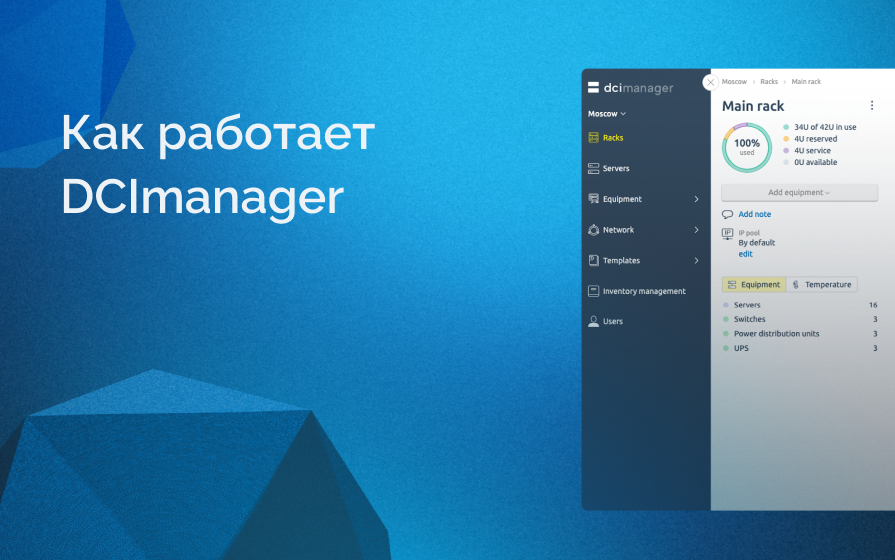 What tasks DCImanager solves

Inventory keeping and planning of IT resources of the enterprise
Manage your hardware assets throughout their lifecycle, from acquisition planning to decommissioning. DCImanager monitors the placement of equipment in racks, provides a convenient inventory system, and documents network settings.

Monitoring of data centers and utility equipment
Monitor the state of infrastructure in all your data centers from a single window. View data on connection status, traffic, temperature readings, and power consumption. Receive notifications about possible threats to maintain high availability of services.

IT infrastructure management system of the organization
Administer servers and network equipment remotely from any device with a web browser. With DCImanager, engineers of any qualification level will be able to perform basic server or switch configuration operations.

Sales of dedicated servers
Provide dedicated servers to clients quickly and automatically, without the involvement of technicians. DCImanager will install the software, assign an IP address, and provide access to the server. The user will receive the finished service in just a few minutes after ordering.
Why choose DCImanager
Managing all data centers in a single window
Suitable for geographically distributed infrastructure. From a single DCImanager platform, you can centrally manage all locations.
Multivendor support
Supports rack and blade servers, switches and PDUs from most vendors. You no longer have to depend on one vendor's terms or maintain tools to work with different brands of equipment.
Reliable developer with over 16 years of experience
Our experience is trusted by thousands of companies around the world. A set of tools and software products of the ISPsystem ecosystem allows you to manage the infrastructure at all levels.
Professional support
Our technical support consists of network engineers and Linux administrators.
Cases of companies working with DCImanager
Our clients are thousands of companies from 150 countries
Planned
Improved user session management mechanism
2024
Improved network address allocation mechanism
2024
Improvement in network configuration mechanisms for multiple network adapters
2024
Hardware RAID controller management and monitoring capabilities
2024
Report customisation improvements, expanded report templates and improved report export capabilities
2024
Storage monitoring (beta)
2024
Planned
Improvements in the logic of operation of the «Inventory Management» module
2024
Standardisation of platform logs and improvement of their export capabilities
2024
Ability of basic configuration BIOS/UEFI server parameters
2024
Organisation of local firmware storage for server components
2024
Inwork
Notifications in Telegram
2024
Diagnostic and monitoring capability via the operating system agent
2024
New wizard for adding a server
2024
New platform and infrastructure status dashboard
2024
Server maintenance mode
2024
Inwork
Extreme Networks switch support
2023
Done
Server diagnostics group operation
2023
Displaying time zones in GMT+ format
2023
Ability to edit ISO images in the interface
2023
Ability to add custom fields via the interface
2023
Adding a chassis as a separate accounting unit in the «Inventory Management» module
2023
Creating a BMC operator after diagnosis
2023
Ability to add and remove server components in groups (assemble/disassemble)
2023
Ability to customise notifications for equipment under warranty and on standby
2023
Displaying custom fields for the chassis
2023
Filtering capability for NetFlow statistics
2023
Done
Automatically retrieve server platform via BMC/Redfish
2023
Autodetection of the connection protocol to the server BMC
2023
Common EventLog for the infrastructure with the ability to filter messages by type and importance
2023
Data center map (beta)
2023
Done
Filtering by blocked servers
2023
Time zone change for statistics and equipment history
2023
Done
Displaying exceeded sensor thresholds in the server status field
2023
Flexible management of roles and access permissions
2023
Improved readability of the interface by changing the color scheme and increasing the contrast of text and graphic elements
2023
Filtering and sorting by user-added fields
2023
Search by user-added fields
2023
Adding a FreeBSD-rescue-amd64 recovery template
2023
Collecting Netflow statistics by IP address and displaying in Grafana
2023
Done
IPMI session reset option
2022
Two-factor authentication
2022
Testing the mail sending function
2022
Displaying the date of template update
2022
Option to add custom fields to the equipment and racks
2022
Saving switch settings to non-volatile memory
2022
Connecting to BMC when adding a server
2022
Fast transition from dashboard to equipment having problems
2022
Working with API in the Swagger GUI
2022
Optimizing the BMC requests
2022
Done
Option to specify own phone numbers and links to the user agreement
2022
Optional hostname field for IP address
2022
Option to create more than one PDU connection for the server
2022
Filters and history in global search
2022
Option to filter servers without a rack
2022
New operating system templates: Ubuntu 22.04, AlmaLinux 9, Windows 2022
2022
Option to put servers into operation in groups
2022
Running diagnostics and recovery without connections to PDU or BMC
2022
Reports on main server systems, firmware and components
2022
Viewing BMC Redfish logs in tabular form
2022
Automatic server reboot on cancellation of recovery operation
2022
Support for Aten PDUs
2022
Option to move chassis between racks
2022
Option to put a UPS from the warehouse into operation
2022
Option to manage multiple warehouses
2022
Option to manage deliveries and supplier
2022
Option to attach waybill files to the delivery
2022
Option to specify a price for equipment in the warehouse
2022
Group OS installation
2022
Option to edit the server configuration independently
2022
Check uniqueness of IPMI IP address within a location
2022
Done
Added the ability to search for servers by BMC address range
2022
Setting additional parameters in the component cards under Equipment->Equipment types
2022
Creating platform backups on NFS/SMB
2022
Global equipment search in the platform
2022
Improved tools for migration from DCImanager 5
2022
Deliveries management in the Equipment Inventory Management module
2022
Displaying the list of busy IP addresses under Networks
2022
Done
Using an SMTP server without authorization
2022
Installing DCImanager on AlmaLinux 8
2022
Exporting data from tables in CSV format in the Equipment Inventory Management module
2022
Managing UPS in the Equipment Inventory Management module
2022
Done
Displaying detailed switch port statistics
2021
Backups and restoring DCImanager settings on schedule in the platform interface
2021
Ability to add custom handlers for PDUs
2021
New product LayOut - an extension of the interface features.
2021
Integration with AD/LDAP domain authorizations.
2021
Chassis tables, ability to manage them as separate entities.
2021
Done
Equipment Inventory Management module. Allows you to keep an inventory of any equipment, control its movement, keep a history of operation, track deliveries and the status of service contracts.
2021
VPU (VLAN per user) module. Allows you to place each server in a separate broadcast domain.
2021
Rack visualization module. Shows the rack map graphically with the ability to display device temperatures.
2021
HTML5 IPMI console for Cisco servers.
2021
Ability to open the IPMI console for Aquarius servers.
2021
The list of supported switches has been expanded: D-Link, Huawei, Eltex MES2XXX and Eltex MES5XXX, Zyxel GS2200 and Zyxel XGS, D-Link 3200B, D-Link 3200C, Brocade.
2021
Server boot mode selection for diagnostic, recovery and OS installation operations. For servers that have problems booting via PXE, you can select an alternative iPXE boot loader.
2021
Ability to edit the appearance of platform tables.
2021
Server monitoring by temperature, voltage and fan speed. Tracking errors when running server diagnostics.
2021
Ability to manage UPS devices.
2021
A handler for RPCM PDU has been added.
2021
Feel free to offer your ideas for improving ISPsystem products to make them more convenient and functional
Request an improvement
Select the required pricing plan
Specify the required period
DCImanager
Hosting
A solution for automating sales of dedicated servers.
Automatic provisioning of ready-to-go servers
Diagnostics of equipment when changing clients
Colocation service automation
Client self-service portal
Integration with billing platforms
Additional monetization of the service through built-in modules
Number of equipment items
50
50
100
200
300
More then 300
Number of equipment items for the Warehouse module
0
0
1000
2000
3000
4000
5000
6000
7000
8000
9000
10000
Do you have any questions left? We will be glad to answer them!
Submit a callback request and we will be sure to answer your questions about products and usage scenarios, give a demonstration, or share helpful materials.
Request a consultation
About pricing plan
Geographically distributed locations
Managing multiple geographically remote or logically distributed IT infrastructures from a single window (e.g., several data centers, server rooms)
Server operations: OS installation, diagnostics, and recovery
Automatic OS installation with the option to run the initial system setup script. Automatic diagnostics of the state of the server and its components. Remote server recovery option.
Installing an OS from an ISO image
Mounting a custom ISO image onto the server and installing any operating system
Guest OS repositories
A preinstalled set of images of most popular operating systems and software installation scripts (e.g. LAMP, LEMP, OpenVPN, Django, ISPmanager and others)
Software fine-tuning (Shell/PowerShell)
Using ready-made Shell/PowerShell scripts from ISPsystem repository, creating custom scripts and running them on the server automatically immediately after OS installation
Automation of VLAN sales
Automatic creation of VLANs and editing their members. Provision of VLANs as an extra service to the dedicated server rent service. Setting up billing with BILLmanager or other billing system
Search of PXE servers
Search and auto-adding of new servers in the background mode via PXE in a selected network or IP range
Search of BMC servers
Search and auto-adding of new servers in the background mode via BMC in a selected network or IP range
User self-service portal
User client area with access only to the user's allocated resources and the option to manage servers and virtual networks
IPMI proxying
Gaining access to IPMI web interfaces by proxying requests through the location server (without accessing the server directly over the network)
Switches
Support for managing switches
PDU
Supports for managed power outlets
UPS
Supports for managing uninterruptible power supplies
Chassis and blade servers
Support for blade servers and the chassis in which they are installed
Rack visualization
Visual rack map enabling to see the location of equipment in the rack, the number of devices of a certain type, the number of free/occupied/reserved units, server temperatures, and other information
Equipment inventory management (warehouse)
Inventory management for all types of equipment: servers, accessories, switches, routers, UPS, and any other IT assets, including non-physical (software, licenses, etc.)
Linking delivery notes
Attaching scans or photos of invoices from suppliers
Managing deliveries and suppliers
Adding information about suppliers and their contacts, tracking of planned and completed deliveries of equipment
Equipment inventorying
Detailed information about each piece of equipment - where it is now, in what condition and how it was used before - helps reduce equipment losses and plan purchases economically
Platform installation on OS
Alma Linux
Option to install DCImanager on Alma Linux
CentOS
Option to install DCImanager on CentOS
Ubuntu
Option to install DCImanager on Ubuntu
IPv4 and IPv6 IP address management (IPAM)
IPv4/IPv6 and address space management: pooling IP addresses and physical subnets, automatic and manual IP address assignment, IP address and network management, DNSBL check for IP addresses, network activity history
Integration with PowerDNS
Integration with high-performance free open source DNS server
Platform backups
Configuring automatic DCImanager backups on a server with a platform or external storage (via SSH, FTP, SMB or NFS)
Infrastructure status notifications
Notification of platform administrators about exceeding the allowable values of equipment sensors and other abnormal situations in the interface of DCImanager and by email
Ability to export data to CSV
Saving data on equipment and inventory items to a CSV file
User and ACL management
Restricting user access to platform sections and equipment based on role and group access systems
User management through MS AD/Free IPA/LDAP integration
Centralized management of user permissions through synchronization with Active Directory/Free IPA/LDAP directory
REST API available
Integration of DCImanager with any external software via REST API to manage the platform and equipment (including custom scripts) and obtain information about them
Listed in the registry of domestic software
The platform is included in the Uniform Register of Russian Programs for Electronic Computers and Databases